Sanna Hendricks has been with De Waal Wines for more than 10 years. While her main duties include the general cleaning of the tasting room, setting up the Terrace and stock count of wine tasting glasses, she is always looking for ways to improve the look of the Tasting Room.
Sanna has shown a keen interest in arranging the flowers in our tasting room and has been doing this for the past 8 years. She often gets compliments, from tourists and local guests alike.
When did you realize, for the first time, that you have a gift to work with flowers?
I lived on the farm Wolwedans about 15 years ago. The daughter of one of my friends was arranging her wedding at the farm and I wanted to help them. I suggested to help with the flowers, to put small posies in vases on the tables. The guests at the wedding were impressed by the flowers and thought it was lovely. I felt really proud and also thankful, that I could help to make this wedding look special.
Is there someone that inspires you, or teaches you at the farm, with regards to arranging the flowers?
I believe flowers show "love" and for this reason I like to take initiative to make beautiful arrangements in our Tasting Room. I have learnt a lot from Janine de Waal, the owner. I have worked at some functions in the beautiful old barn, where I have helped her with the flower arrangements.She taught me which flowers to use together. Janine also regularly gives some ideas and advice about the flowers and the plants on our outside Terrace.
What is the best compliment that you have received?
One of our tasting room students have already asked me to be in charge of her flowers at her wedding next year. I am very excited about this! Then I received another lovely compliment from a delivery person. He saw me arranging flowers in the foyer and he mentioned to me that my name should have been "Flowers", as he can see that I have a special talent. It was lovely to hear that.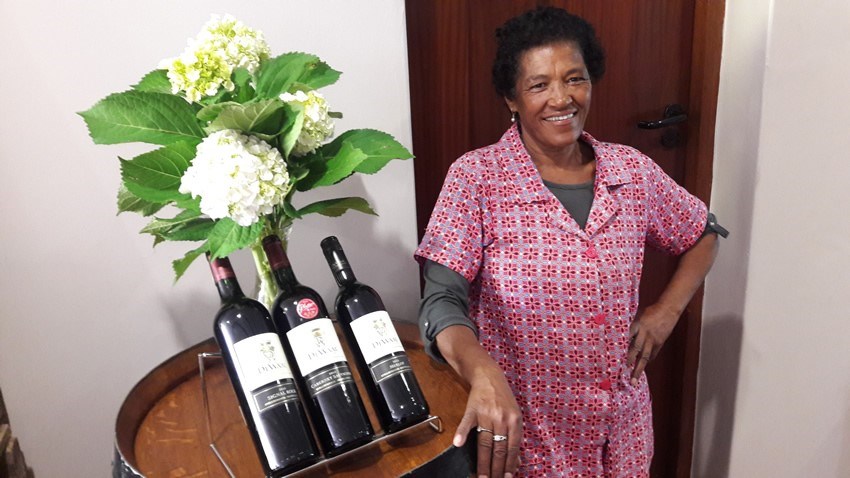 Salomé Maasdorp has always been part of Kaapzicht Wine Estate. Born and raised there with her dad working in the vineyards, it took a few wrong turns and bumps along the way for her to find her own place on the family-owned estate.
A teenage pregnancy left Salomé with little hope of making a good future for her and her child. She demonstrated a stubbornness and refused to complete her high school career, despite her parents' best efforts and calling on Yngvild Steytler, matriarch of Kaapzicht Wine Estate, for help. The birth of her son in 2001 left Salomé with a taste of reality, having to provide for a baby and she started working in the packhouse of the winery as a general worker. Salomé's love for the children on the estate didn't go unnoticed by Yngvild Steytler who saw Salomé entertaining children over holidays.
A big struggle on wine farms is daycare facilities for farm workers' children as schools and creches are far away and costly. When the Pebbles Project was started in the winelands, Yngvild Steytler got Kaapzicht involved. She already had the perfect teacher in mind, Salomé was assigned to run the new creche and aftercare facilities on the farm. With years of hard work on the farm behind her, Salomé has proven her growth and great work ethics. When she seeked a new challenge in 2012, she was welcomed back to the packhouse with new responsibilities. In 2014, Sales and Marketing Manager, Carin Steytler, continued her mother-in-laws legacy and scooped up Salomé to run the tasting room. She has grabbed the opportunity with both hands and anyone who visits the farm will meet the dynamic Salomé who introduces herself as "part of the furniture".